Tea Infused Vinegar and Tea Vinegar Pickles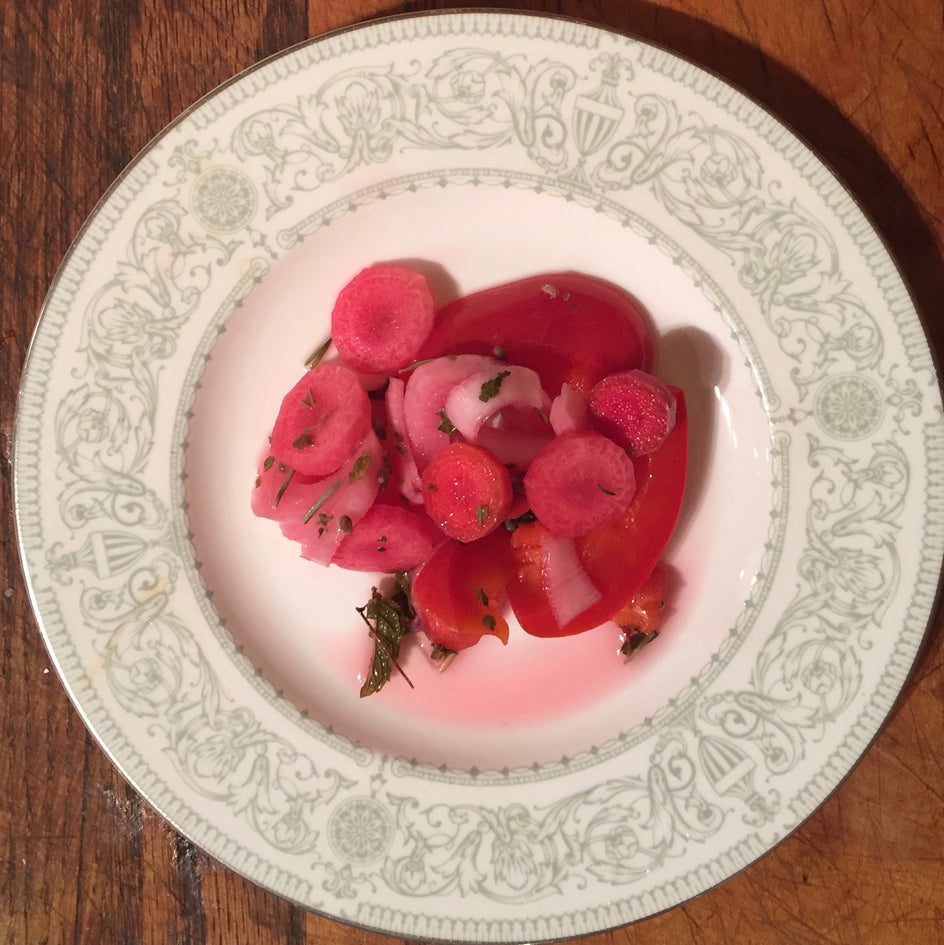 We love tea for the flavor, so why not bring all that lovely flavor to the table? Here are infused vinegar recipes where tea has been infused in vinegar rather than in water.
Crater Lake Blue With Champagne Vinegar
Crater Lake Blue infused in champagne vinegar is a lovely aromatic complement to a vegetable salad, and the color can't help but make you smile. The acid in the vinegar turns it a lovely shade of brilliant purple. I used a tablespoon of tea in half a cup of champagne vinegar and let it sit overnight in a lidded container. Then strain and enjoy!
Marinate Vegetables Overnight
In a related idea, dilute your tea infused vinegar with an equal amount of water and add 1 T of salt per cup of liquid. Marinate bite-sized vegetables overnight and serve. Here I used red bell pepper, shallots, and purple, orange, and white carrots (the lovely color came from the carrots. My favorites so far were Green Blackberry Basil and Oregon Rain. The Blackberry Basil is a little sweeter, and the Oregon Rain is more savory. Let your imagination run free!
Tea Infused Vinegar Recipe
Ingredients:
-1 TBSP of choice (we used Crater Lake Blue)
-½ cup champagne vinegar
Preparation:
Combine ingredients in a lidded container or jar
Let sit overnight
Strain
Enjoy over your favorite salad (we used romaine lettuce, mushrooms and cauliflower)
Tea Vinegar Pickles
Ingredients:
-Prepared tea infused vinegar (we used Green Blackberry Basil and Oregon
-Water
-Salt
-Vegetables of choice (we used red bell peppers, shallots, purple, orange and white carrots)
Preparation:
Dilute tea vinegar with equal parts water in a jar
Add 1 TBSP of salt per cup of liquid
Marinate vegetables overnight
Enjoy with your favorite salad or by themselves