Tea Infused Cheesecake Recipe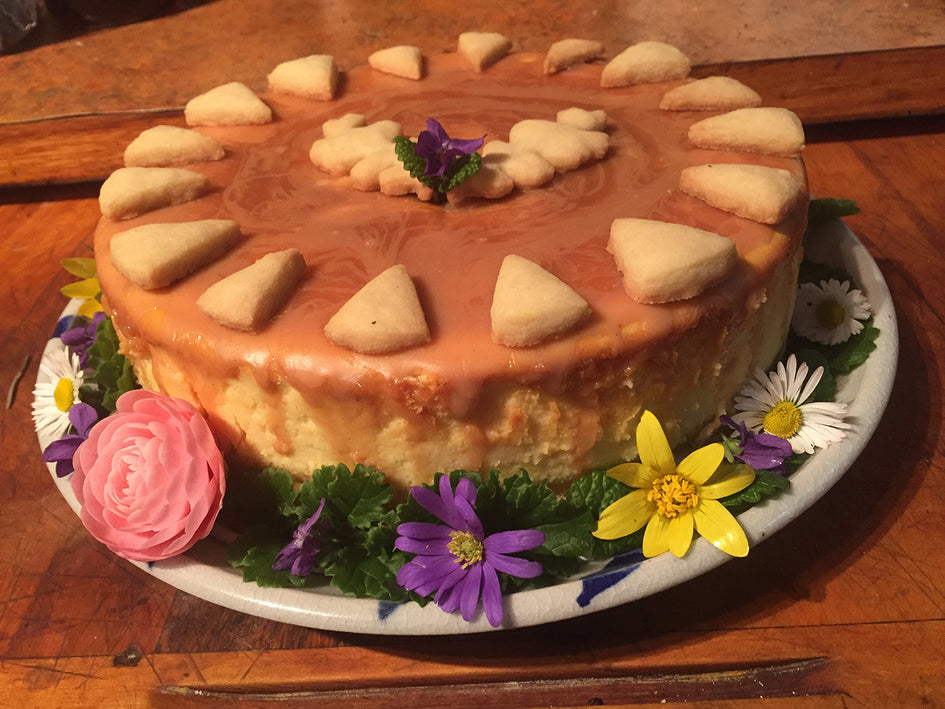 If you have been following our blog, you'll know that we love to incorporate our tea into delicious recipes. This cheesecake recipe fuses a tea syrup into a caramel topping perfect for any cheesecake fan out there.
As the weather warms, my desert cravings turn to smooth cool creamy cheesecake. (Not that there is ever a time when cheesecake isn't good!)
Cheesecake is really just a very firm custard. It is sugar, eggs, and dairy. No combination of those three things can really be bad, so if you have to use one less egg, or have half and half instead of cream, or are blessed with huge amounts of chevre and no cream cheese- it's ok! Your final dessert might be a bit less firm or be a bit more crumbly, but it will, I am sure, still be amazing! Many families have a favorite recipe as well, and this idea can easily be adapted to your favorite recipe.
Here is what I used.
1.5 cups heavy cream + 4-5T Lavender Grey Tea (½ cup goes to the cake, the rest to thecaramel top)
35 oz of cream cheese, room temp.
6 eggs
1 1/3 cups white sugar
2t vanilla
1t lemon zest or a few drops of lemon extract
For crust:
2 cups finely crushed Lavender Grey Cookie crumbs (this is why you make EXTRA!!)
For the top- 1 more tablespoon of tea leaves, see instructions below! *
9-10 inch spring form pan (You can use almost any pan, it's just hard to get the pieces out of asolid sided pan)
Baking dish big enough to put the spring form in, with at least an inch between the edges.
Note - I buy cream cheese in 1kg blocks, which is 35 oz or so. If you buy the regular silver wrapped 8 oz blocks, buy 5 and you will have 40 oz. Add another egg, maybe use 1.5 cups sugar, and proceed!!
The day before you make the cheesecake (Or at least 8 hours) put the tea in the cream, stir, and refrigerate until use.
When you are ready to make the cheesecake:
Make crust by pressing the cookie crumbs into the bottom of the spring form pan. Most crust recipes involve crumbs, butter, and sugar. These cookies usually don't need the added sugar and butter, but test it by squeezing some in your hand. If they hold together it will work. If it is a bit crumbly, add a tablespoon of melted butter and try again.
Mix cream cheese and sugar until smooth, add eggs, continue to mix until smooth. If your cheese is cold to start this will be much harder. Don't over beat or it will get foamy. A little air is OK, but we are not aiming for fluffy.
Add ½ cup of the cream (strain out the tea first!) and flavorings and mix.
Pour into the spring form pan, and set pan into a baking dish of hot water. The water needs to go about 2 inches up the sides of the spring form. This evens out the heat, and creates a slightly moist baking environment, which helps prevent cracking the top. If your spring form isn't water tight wrap the bottom in a few layers of tin foil. Soggy crust is an unpleasant surprise!
Bake at 350 for an hour.
Turn off oven and let it sit in the oven as they both cool for another hour.
Refrigerate.
Just after putting it in the oven, make 16 oz of tea. Pour yourself a cup to drink while the house fills with the scent of cheesecake, and leave the leaves in the other cup until it is very strong. Strain, and add 2 cups of sugar.
When you have taken the cheesecake out of the oven, boil the tea syrup in a wide flat pan. I use an enameled frying pan as it is good for even heat and easy washing. When the syrup begins to thicken, take it off the heat for a minute and slowly add the rest of the heavy cream. On medium high, stir until your caramel sauce is just a bit more runny than you think it should be for pouring on your cheesecake. It will thicken as it cools. Let cool a few minutes, then take cheesecake out of the refrigerator, Run a hot wet knife around it and take off the sides. Pour on the caramel, and put it back in the refrigerator for at least 2 hours.
This is a great cheesecake recipe for doing on a day off when you really just want to relax and read a good book, and end the day with something that makes it look like you worked hard all day! It is a series of fairly easy tasks with long periods of waiting around in between. The end result is somehow greater than the sum of its parts. Next weekend I think I may try a cheesecake recipe with Rose Chai tea!