Rum Punch Recipe with Hibiscus Tea & Other Tea-Infused Cocktails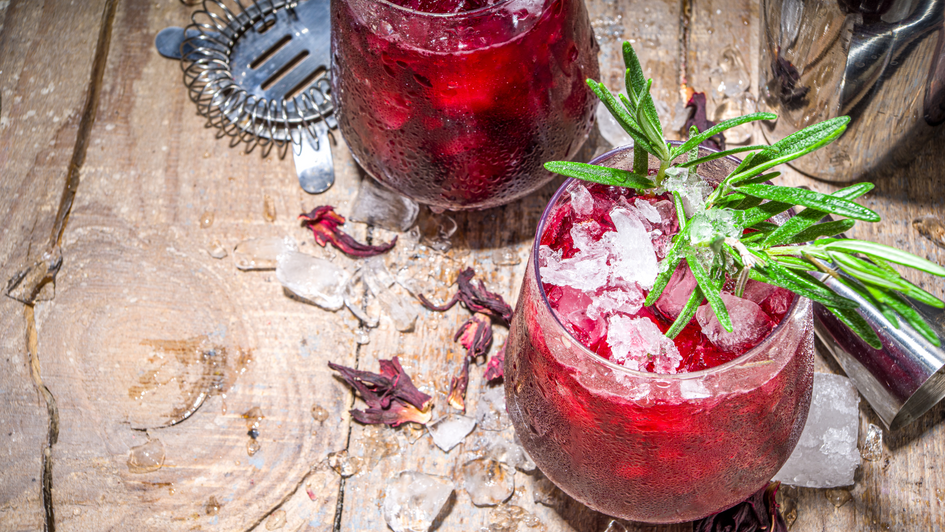 When you think of tea recipes, cocktails probably aren't the first thing to pop into your head. However, there are many ways to infuse your favorite cocktails with delicious teas for a new spin on traditional refreshments. From a rum punch recipe to the classic Bee's Knees drink, get rejuvenated by adding some tea to your next cocktail.
Rum Punch Recipe with Hibiscus Tea
There's nothing like good rum punch. The classic rum punch recipe is simple, punchy, and refreshing. The traditional ingredients include a spirit, citrus, spices, sugar, and water. There's quite a bit of room for creativity here, making it the perfect candidate for some experimental tea infusions. 
To add some hibiscus tea to your next batch of rum punch, simply brew ¼ cup of dried hibiscus flower with 4 cups of water. Add the flowers and water together and set it to a boil. Once boiling, switch off the flame and let the tea steep for 15-20 minutes. If you're just making hibiscus tea to drink on its own, you might add in a spritz of lime and some honey. However, since the rum punch recipe calls for citrus and sugar, we'd suggest holding off on these ingredients for now.
Once your hibiscus tea is ready, add your choice of rum and juice into a shaker with ice and shake it until it's well chilled. For fruit juice, oranges and pineapples are excellent choices. It's also popular to add a dark and light rum for more depth and complexity in your drink. You can also add a touch of freshly squeezed lime and homemade grenadine for a tart richness.
Chai Hot Toddy Recipe
The next cocktail recipe on our list is the hot toddy. An excellent way to spice up your traditional hot toddy is by adding chai tea to it. The sweet and spicy mixture of cinnamon, cardamom, ginger, and vanilla is the perfect combination to add some adventure to your glass.
The traditional hot toddy recipe calls for either whisky or bourbon, honey, lemon juice, and hot water. This drink is known to be light and hydrating rather than overwhelmingly sweet, so tweak your lemon and honey ratio until you have it just how you like it.
Adding chai tea to your hot toddy is simple. Start by gathering ¼ cup of your favorite loose leaf chai tea (we love Masala chai). Add the dry tea to an infuser and place it in a pot with 4 cups of water. Set the water to boil, and once boiling, turn off the flame and let the tea steep for about 10 minutes. Then, mix in your choice of alcohol, honey, lemon, and chai to create your tastiest hot toddy yet.
Chamomile Lavender Lemon Bee's Knees Recipe
The final cocktail recipe to experiment with is the Bee's Knees cocktail. This prohibition-era cocktail is straightforward but nonetheless very delightful. It features gin, lemon juice, and honey. The gin you select will impact the overall taste of your Bee's Knees cocktail. The London Dry gin offers a more juniper berry presence, while a more modern gin features citrus and floral notes.
An excellent way to infuse tea into this drink is by creating a honey syrup with our Chamomile Lavender Caffeine Free Tea. To make this tea-infused syrup for your cocktail, you'll want to add a ½ cup of boiling water to 1 tablespoon of your chamomile lavender tea. Let it steep for 5-10 minutes. Then, add ½ cup of your favorite honey and your steeped tea to a small saucepan and set it over medium heat. Stir your mixture until all the honey is dissolved. Then, allow the syrup to cool and store it in an airtight container. 
To concoct your Bee's Knees drink, mix 2 ounces of gin, ¾ ounces of freshly squeezed lemon juice, and a ½ ounce of honey syrup in a shaker with ice and shake it until it's well chilled. Then, strain your drink into a chilled cocktail glass and enjoy.
More Tea Recipes from Oregon Tea Traders
We love tea, and we love how easily it goes into a rum punch recipe and other traditional baking and drink recipes. For more ideas on how to infuse delicious teas into your next cooking adventure, visit the
Oregon Tea Traders Blog
.